Print FedEx Shipping Labels via WooCommerce
This plugin works with any FedEx Account!!!
You can use any country (your fedex account must be from that country) as origin.
The plugin helps store owners significantly speed up the shipping process by offering an easy way to print FedEx Shipping Labels, from Woocommerce Backend.
FedEx shipping label plugin is a web-based shipping solution with real-time integrations.
You need a Fedex Account enabled for (Production) in order to generate the labels.
$110.00 – $450.00
Print Fedex Shipping labels in 3 simple steps:
Go to your Orders in WooCommerce Backend.
Select the order you want to create, just click on FedEx Label button.
Then click on Generate Label and it's DONE!
That's all the plugin will get the data from WooCommerce and Generate the label in PDF or PNG. Then just print fedex label.
Features
Print FedEx Shipping Labels ready for shipment.
Multiple-Package Shipment ready.
Updates orders inside WooCommerce with shipping and tracking information.
Send your FedEx Labels to your via email.
Choose if you want to auto generate the shipping label after a customer made an order (will move the order to completed) or wait until the point of order fulfillment.
Support for purchasing shipping labels at the point of order fulfillment.
Add Order number on Shipping Label.
Add Signature options to Labels.
Send to Residential Address.
Add Insurance
Bill third party account for FedEx (Setting an account number of the third party account you want to buy postage).
Saturday Delivery FedEx.
Customizations
You can ask for new features or customizations. For example, you have a shoe repair company and you need to send your client's a shipping label, so they can send the product to you and then send the product back to the client once its fixed, yes thats possible! and we can do that, just contact us to get support. If you have any other idea or question, please let me know and I will be really happy to help.  I'm an all-around WordPress fanatic who loves solving problems.
FedEx Label Example
Multiple-Package Shipment ready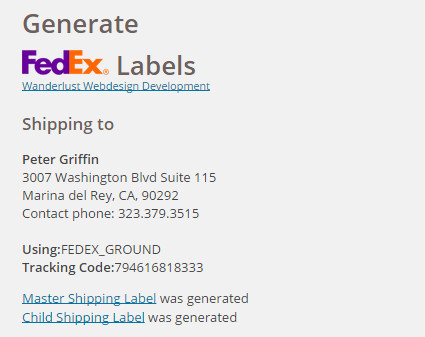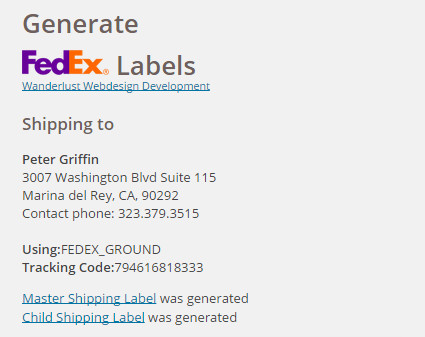 Demo
Plugin Details
Do plugins have licenses?
All plugin purchases have licenses (Single site license), which will allow you to update your plugin and receive support. Each license is valid for one year.
Are the licenses valid for a lifetime?
No, each license is valid one year from the date of your purchase. You can renew your license for another year within 60 days of your license expiring at 50% off the original product price. You will be sent an email to notify you when it is time to update.
What happens when my license expires?
The product will continue to work after your license expires. You are free to continue using the product for as long as you like, but you will not receive support and updates for the product any longer.
Refund Policy
15 Day Money Back Guarantee
We firmly believe in and stand behind our product 100%, but we are understand that it cannot work perfectly for everyone all of the time. If you  have an issue that we are unable to resolve that makes the system unusable, we are more than happy to provide a complete refund within 30 days of your original purchase.
A few conditions:
We cannot provide refunds due to technical issues unless you allow us to adequately try and assist you. If we are unable to resolve the issue for you, we will provide a refund. Please contact us via email or chat before requesting a refund for a technical issue.
Refunds may only be issued within 15 days of the purchase date. After 15 days no refunds can be processed.
Changelog:
2014.10.25 – version 2.4
* Multiple-Package Shipment ready.
* Add Signature options to Labels.
* Send to Residential Address.
2014.01.31 – version 2.0
* Auto send the Label via Email
* Choose from different Label Sizes
* Choose from PNG or PDF Label
2013.12.01 – version 1.0
* First Release
* WC 2.0 Compatibility
* WC Shipping Plugins Compatibility (USPS, UPS, FedEx)
* Compatibility with WC Shipment Tracking
Common Issues
Authentication Failed
This error means your account is still on Test Mode. You need to call FedEx in order to move your account to Production.
I get blank page with FedEx logo
You will need SOAP Client class enabled to fix this issue.