Descripción
Print Fedex shipping labels in 3 simple steps:
Go to your Orders in WooCommerce backend.
Select the order you want to create, just click on FedEx Label button.
Then click on Generate Label and it's DONE!
That's all the plugin will get the data from WooCommerce and generate the label in PDF or PNG. Then just print Fedex label.
Features
Print FedEx Shipping Labels ready for shipment.
Multiple-Package Shipment ready.
Updates orders inside WooCommerce with shipping and tracking information.
Send your FedEx Labels to your via email.
Choose if you want to auto generate the shipping label after a customer made an order (will move the order to completed) or wait until the point of order fulfillment.
Support for purchasing shipping labels at the point of order fulfillment.
Add Order number on Shipping Label.
Add Signature options to Labels.
Send to Residential Address.
Add Insurance
Bill third party account for FedEx (Setting an account number of the third party account you want to buy postage).
Saturday Delivery FedEx.
Customizations
You can ask for new features or customizations. For example, you have a shoe repair company and you need to send your client's a shipping label, so they can send the product to you and then send the product back to the client once its fixed, yes thats possible! and we can do that, just contact us to get support. If you have any other idea or question, please let me know and I will be really happy to help.  I'm an all-around WordPress fanatic who loves solving problems.
FedEx Label Example
Multiple-Package Shipment ready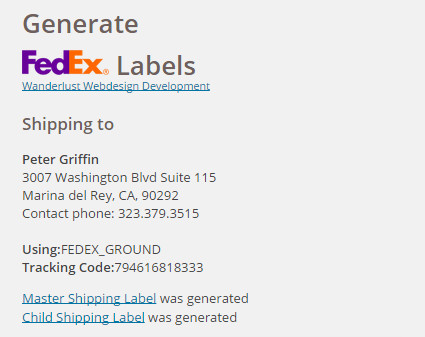 Demo